Government
SERVICE IS OUR TOP PRIORITY.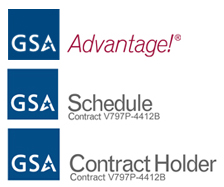 Welcome to Pain Management Technologies, Inc.'s B2G page. Our goal is to deliver effective non-drug alternatives to manage pain for our injured or in-pain veterans. We are accustomed to working with the federal government, state government, and local governments and tailor our business to your exact needs – expense reduction, patient efficacy, and execution of your needs.
Pain Management Technologies, Inc is an approved GSA Contractor. Pain Management Technologies GSA Contract Number is V797P- 4412B. Pain Management Technologies is a leading manufacturer of pain management equipment and physical therapy rehab items to the US Military and US Military Personnel.
Pain Management Technologies can bid on all order sizes, our prices are the lowest, and our service is super fast.
Contact: gov@paintechnology.com, (fax) 330-564-0118, or call us at 800-239-7880 with questions or orders.
---
---
Warranty Provision
Pain Management Technologies Inc. warrants and implies that the items delivered hereunder are merchantable, fit for use for the particular purpose and will be free from defects in material and workmanship for a period of one (1) year from the date of delivery. Pain Management Technologies Inc. will replace, at its option, all parts found defective within this period with the cost of replacement, including shipping charge, to be borne by Pain Management Technologies Inc. Returns Goods Policy: 60-Day Return Guarantee You may return the product(s) to our Akron, Ohio warehouse within 60 days of receipt/delivery for a refund.
All products must be returned in the original condition in which it was received by the customer including packaging, documentation, warranty cards, manuals and accessories.

All returns MUST be accompanied by a unique Return Authorization number

Merchandise returned in used or worn condition (as determined by our warehouse manager) will be returned to the buyer.

Certain hardware items and qualifying custom/special orders may only be returned for replacement and not for refund.

For sanitary reasons, we are unable to accept returns or exchanges of custom-made products, Sexual Health products, personal hygiene products, or mouth care products.

No restocking Fee
---
Misc.
For returned product shipped in error, Pain Management Technologies will be responsible for all shipping charges associated with the return of the product. For product ordered in error, the FSS ordering activity will be responsible for all shipping charges associated with the return of the product.
Notification regarding registration in Central Contractor Registration (CCR) database: Yes